William Raphael
1833-1914
William Raphael is best known for his portraits and lively Canadian genre scenes. He was also a prolific painter of landscapes and contributed to the field of education, both in public institutions and in his own private school in Montreal.
In 1850, William Raphael left his native Nakel in Prussia to study at the Royal Academy of Berlin under the portraitist Johann Eduard Wolff and the genre painter Karl Begas. Raphael left for Canada seven years later, settling in Montreal. He made his living mainly through commissioned portraits and by painting a variety of religious scenes for several Catholic orders. He also travelled to various regions of Quebec and Ontario to experience and paint the Canadian landscape.
His genre scenes, such as Behind Bonsecours Market, Montreal (1866) and Indian Encampment on the Lower St. Lawrence (1879), strove to document the romantic aspects of Canadian life as seen through the eyes of an immigrant. In 1880, one year after he was accepted in the Ontario Society of Artists, Raphael became a charter member of the newly formed Royal Canadian Academy. There, he taught the first course in figure painting and drawing. One year later, he formed his own successful school. Raphael continued teaching in his mid-70s and left a precious legacy, recording for posterity scenes of a vanishing way of life.
William Raphael est connu surtout pour ses portraits et ses scènes de genre canadiennes. Il est également un peintre de paysages prolifique et œuvre dans le champ éducatif, dans les institutions publiques comme dans sa propre école privée à Montréal.
En 1850, William Raphael quitte sa ville natale de Nakel en Prusse pour étudier à l'Académie royale de Berlin, où il a comme professeurs le portraitiste Johann Eduard Wolff et le peintre de genre Karl Begas. Sept ans plus tard, Raphael part pour le Canada, et s'installe à Montréal. Il y gagne sa vie principalement avec des commandes de portraits et en peignant des scènes religieuses pour plusieurs ordres catholiques. Il voyage aussi dans diverses régions du Québec et de l'Ontario pour découvrir et peindre le paysage canadien.
Dans ses scènes de genre, comme Derrière le marché Bonsecours, Montréal (1866) et Campement indien dans le bas estuaire du Saint-Laurent (1879), il s'attache à illustrer les aspects romantiques de la vie canadienne à travers un regard d'immigrant. En 1880, un an après son entrée à l'Ontario Society of Artists, Raphael est membre fondateur de la toute nouvelle Académie royale des arts du Canada. Il y donne le premier cours de peinture et dessin figuratifs. Un an plus tard, il ouvre sa propre école, un succès. Raphael enseigne encore à quelque 75 ans et laisse un héritage précieux en immortalisant des scènes d'un mode de vie aujourd'hui disparu.
Titre: The milkmaid .
Huile sur toile
Collection: Dr. M. J. Raff, Montréal
Exposition: cat. 9 - William P. Wolfe, Montréal
Format: 12 x 17 pouces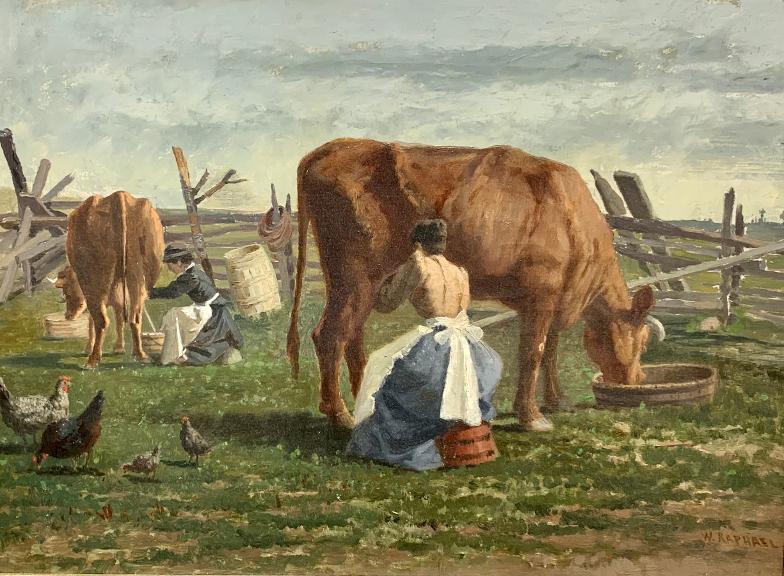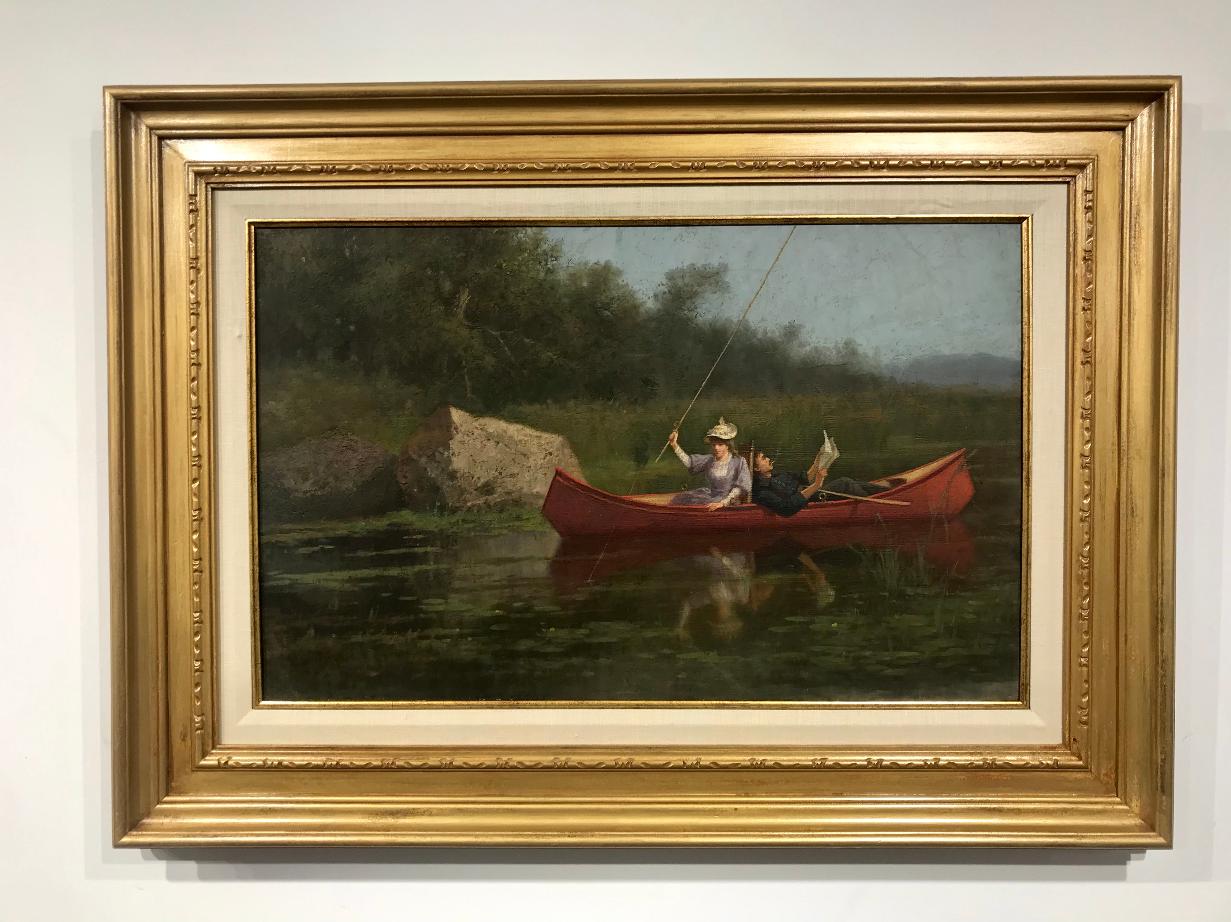 Titre: Avec le courant
1895
Huile sur toile
Format 17 1/2 x 27 in (43.5 x 68.5 cm)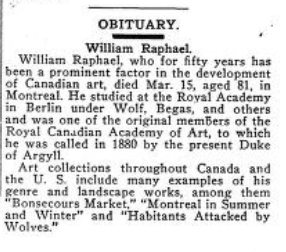 © Copyright galeriecazeault.com