Jean Lefebure (1930-2013)
1958
Format: 19 3/4 x 28 3/4 pouces
Huile sur toile
7 500$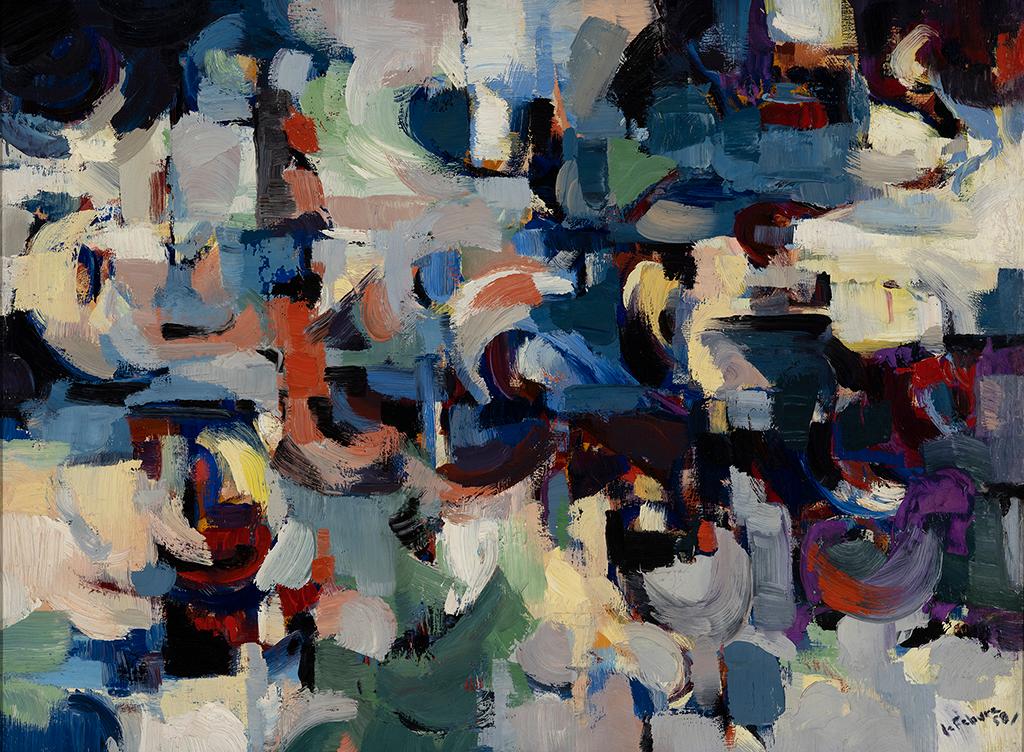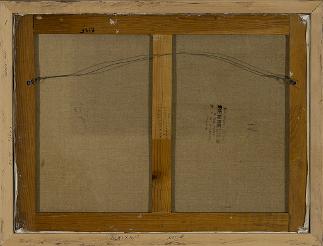 Jean Lefebure (1930-2013)
1983
Format: 35 x 45 3/4 in
Huile sur toile
7 500$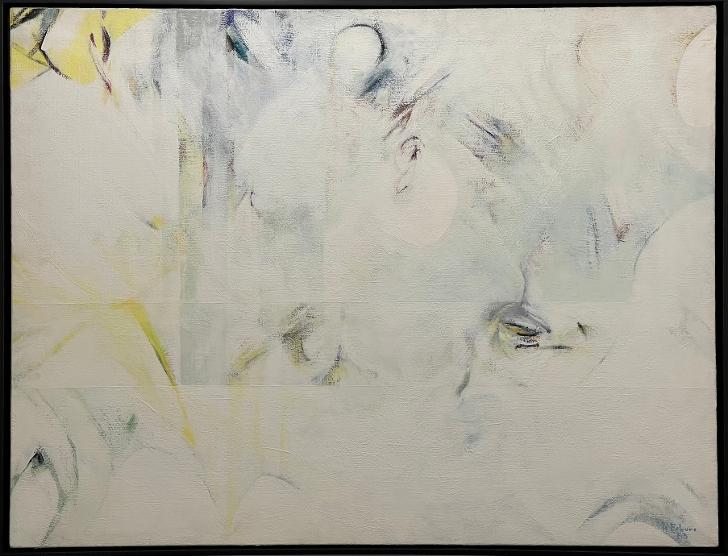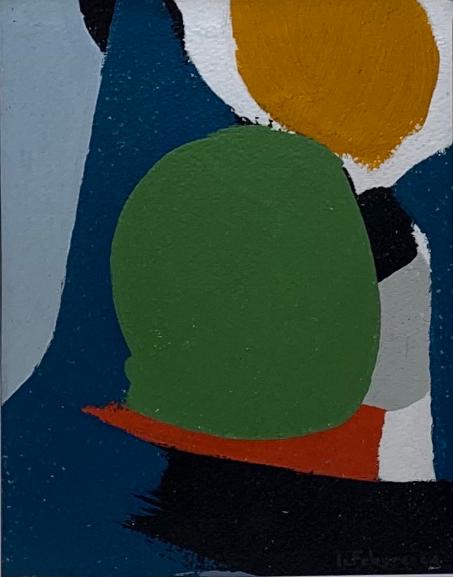 Jean Lefebure (1930-2013)
1964
Format: 8 1/2 x 6 1/2 in
Huile sur carton
2 500$
Jean Lefebure (1930-2013)
1966
Format: 23 3/3 x 28 3/4 in
Huile sur toile
6 500$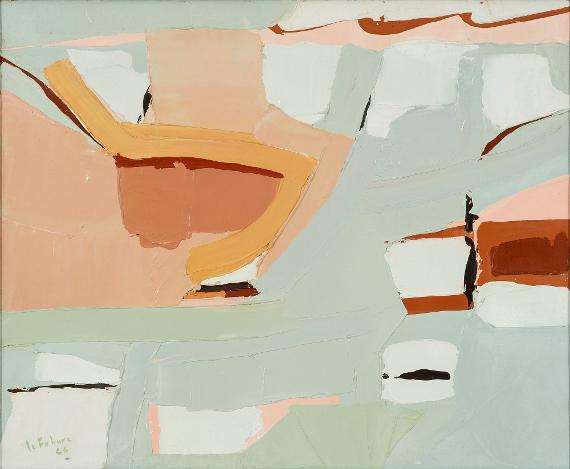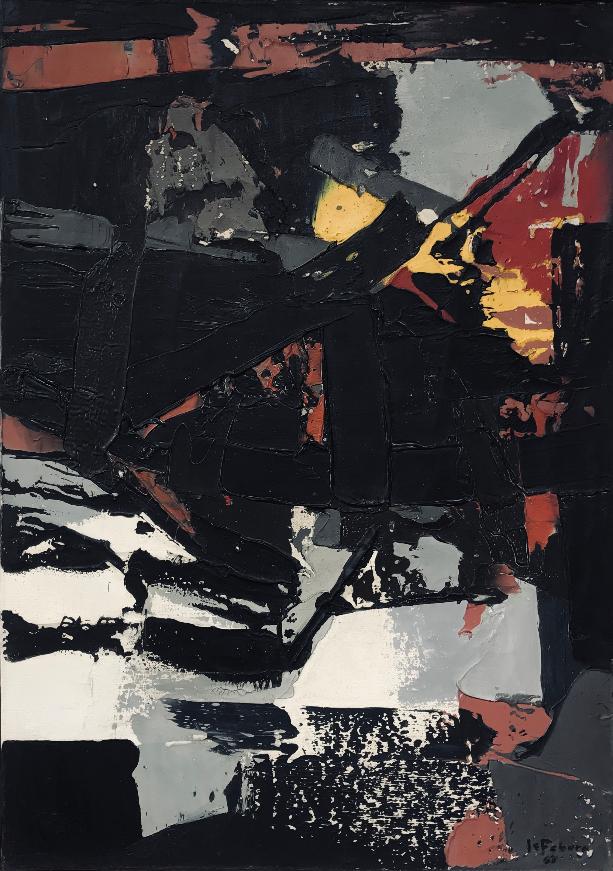 Jean Lefebure (1930-2013)
1963
Format:25 x 18 pouces
Huile sur toile
6 500$
Gouache sur papier
1963
Format: 13 1/2 x 10 1/12 pouces
Prix: 2 500$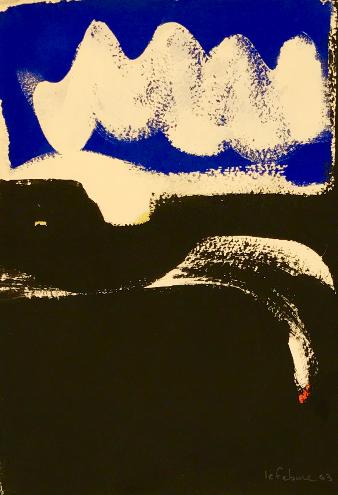 Gouache sur papier
1963
Format: 10 1/12 x 6 pouces
Prix: 2 500$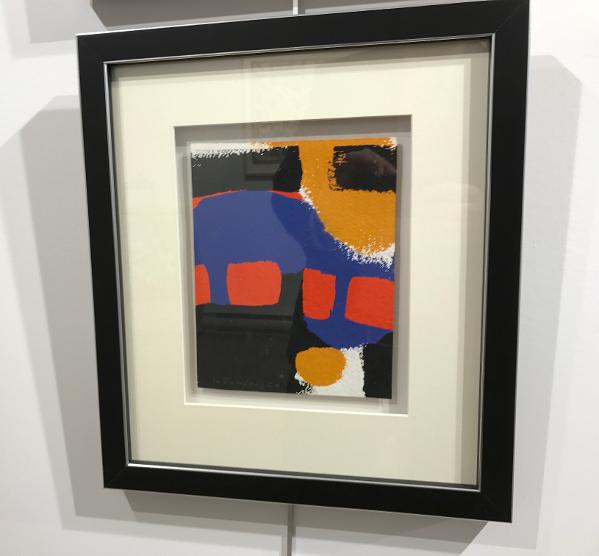 Gouache sur carton
1964
Format 8 1/2 x 6 1/2 pouces
Prix: 2 500$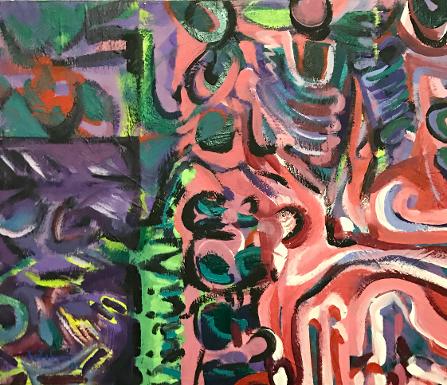 Huile sur toile
1983
Format 18 1/2 x 21 1/2 pouces
Prix: 1 800$
Huile sur toile
1992
Format: 76 x 61 cm
Titre: Indian Rock Beaches
Prix: 2 200$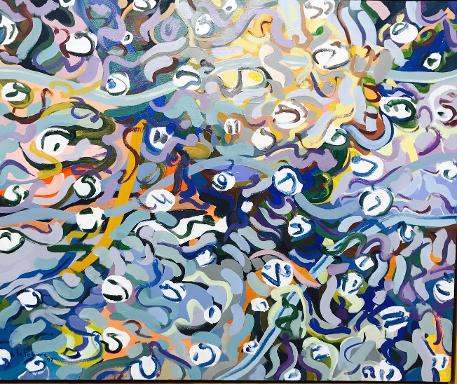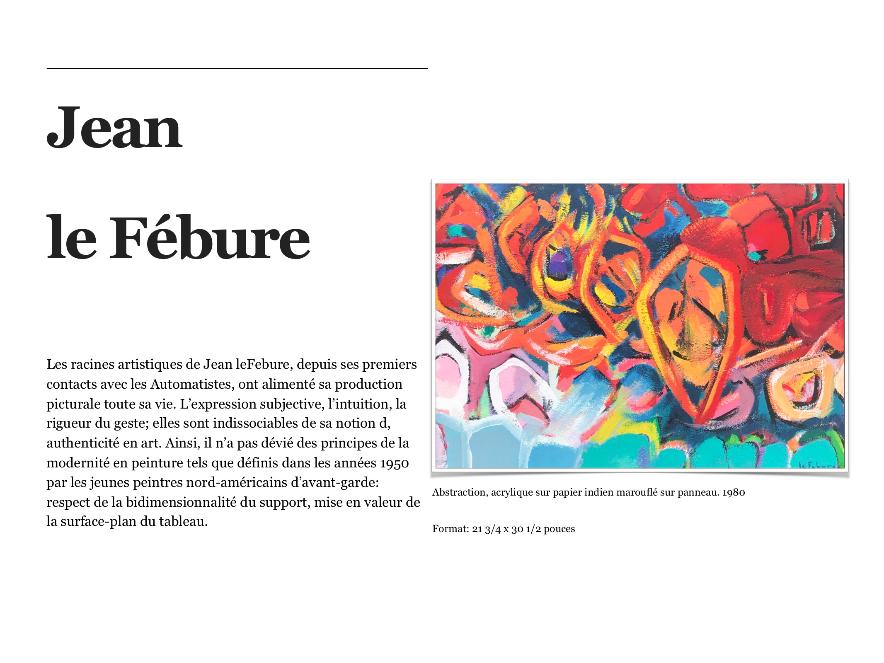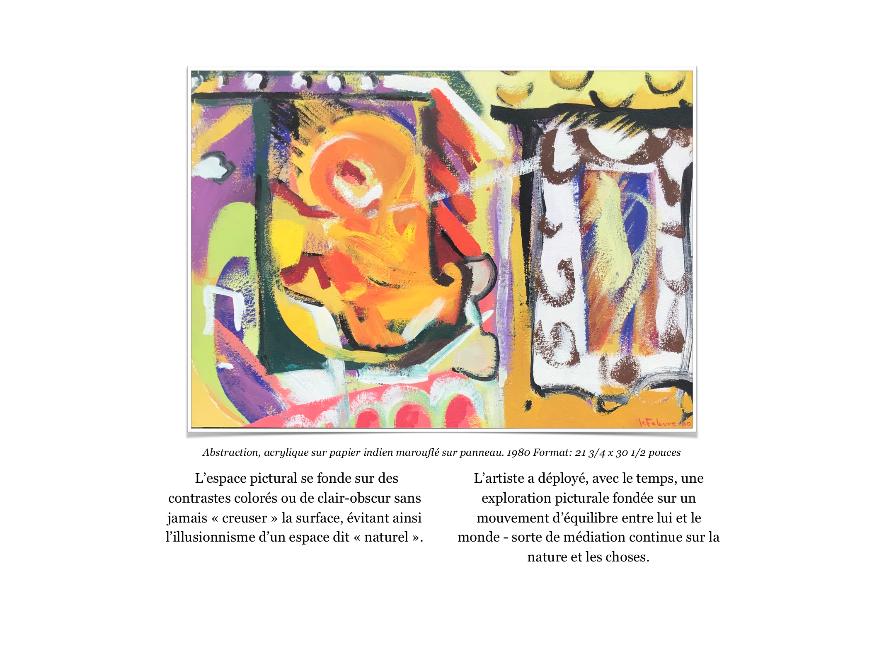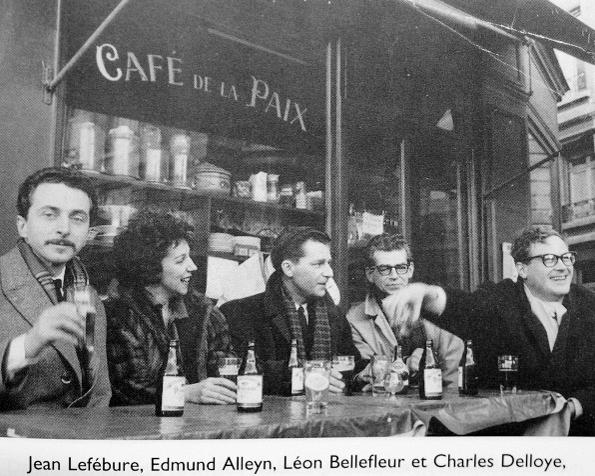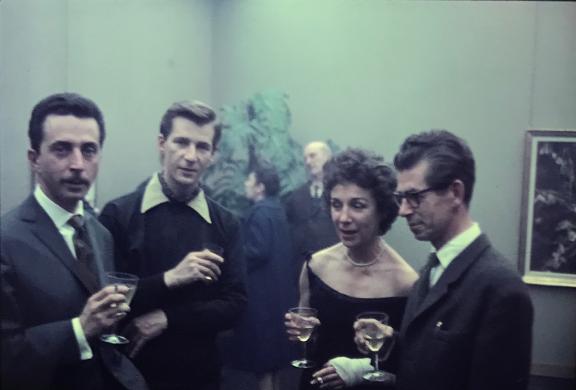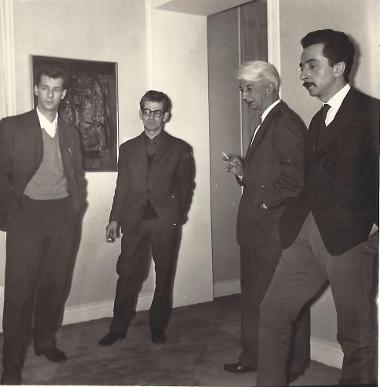 Photo prise à PARIS lors de l'exposition
Peintres canadiens de Paris, galerie Arditti, Paris, 1962
Jean Lefébure, Edmund Alleyn, Marcelle Ferron et Léon Bellefleur
Nous recherchons des oeuvres de JEAN LEFEBURE en prévision d'une exposition rétrospective. N'hésitez pas à communiquer avec nous pour soumettre vos oeuvres.
Jean LeFébure (né Lefebvre) (1930-2013) est un peintre et sculpteur fortement influencé par les Automatistes. Épris de peinture, il fréquente dès l'âge de 17 ans le groupe d'artistes dissidents où il trouve des mentors en Paul-Émile Borduas, Claude Gauvreau et le futur critique d'art et galeriste Yves Lasnier. Il abandonne ses études en architecture et participe aux expositions Le Salon des Rebelles (1950) et Les étapes du vivant (1951). De 1953 à 1965, il part pour l'Europe avec plusieurs artistes du même mouvement et expose en Espagne, en France, en Italie et en Suisse. L'artiste s'établit à Paris, où il se fait libraire pour gagner sa vie tout en continuant de s'adonner à la peinture. Il réalise par ailleurs Guerre froide (1962) durant ces années parisiennes. En 1964, alors qu'il agit comme coloriste-conseil pour le Centre de recherche nucléaire de Saclay, il crée la Série de Saclay à partir des couleurs de l'usine. De retour au Québec, Il réalise la sculpture Signe solaire (1967) pour la Galerie nationale du Canada à l'occasion du centenaire du pays ; sculpture qui est ensuite prêtée à Terre des Hommes pendant l'Expo 67. On peut aujourd'hui admirer cette oeuvre au parc Jean- Drapeau, à Montréal. LeFébure se consacre par la suite à l'enseignement à l'École d'architecture de l'Université Laval (Québec), puis obtient, en 1970, un poste de professeur de peinture au Cégep de Saint-Laurent (Montréal), poste qu'il occupera jusqu'à sa retraite en 1990.
Jean LeFébure (born Lefebvre) (1930-2013)was a painter and sculptor who was strongly influenced the Automatistes. At the age of 17, enamoured of painting, he began frequenting this group of dissident artists, where he found mentorship under Paul-Émile Borduas, Claude Gauvreau, and the future art critic and gallerist, Yves Lasnier. After abandoning his studies in architecture, he took part in the exhibitions Le Salon des Rebelles (1950) and Les étapes du vivant (1951). A few years later, from 1953 to 1965, he lived in Europe with many artists of the same movement, and presented his work in Spain, France, Italy, and Switzerland. He eventually settled in Paris and earned a living as a bookseller, while continuing to paint. Guerre froide (1962) is among the works created during his Parisian years. In 1964, while working as a colour consultant for the Saclay Nuclear Research Centre, he created a sculpture titled Signe solaire (1967) for the National Gallery of Canada, in honour of the country's centennial. The piece was later loaned to the Man and his World pavilion during Expo 67, and can still be admired today on the grounds of Parc Jean-Drapeau, in Montreal. In subsequent years, LeFébure devoted himself to teaching at the School of Architecture at Laval University (Quebec City), before obtaining a teaching position at the Cégep de Saint-Laurent (Montreal), where he remained until his retirement in 1990.
Exposition Galerie Predus, Cannes, France. 1961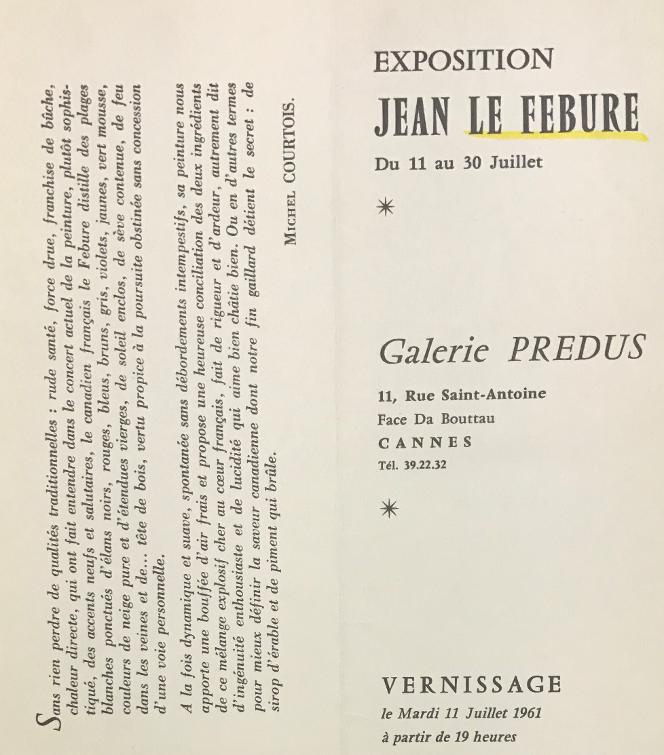 Exposition Galerie Soixante, Montreal. 1963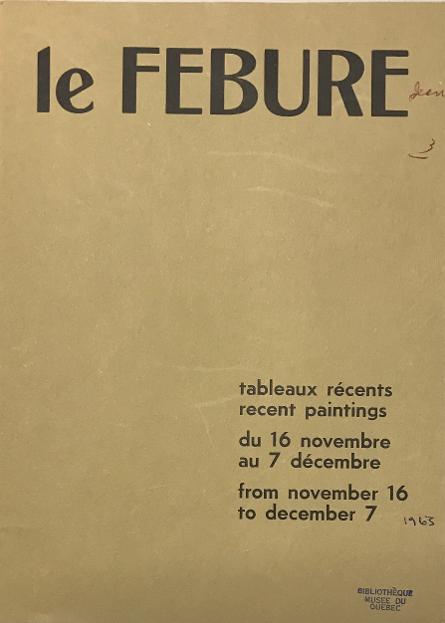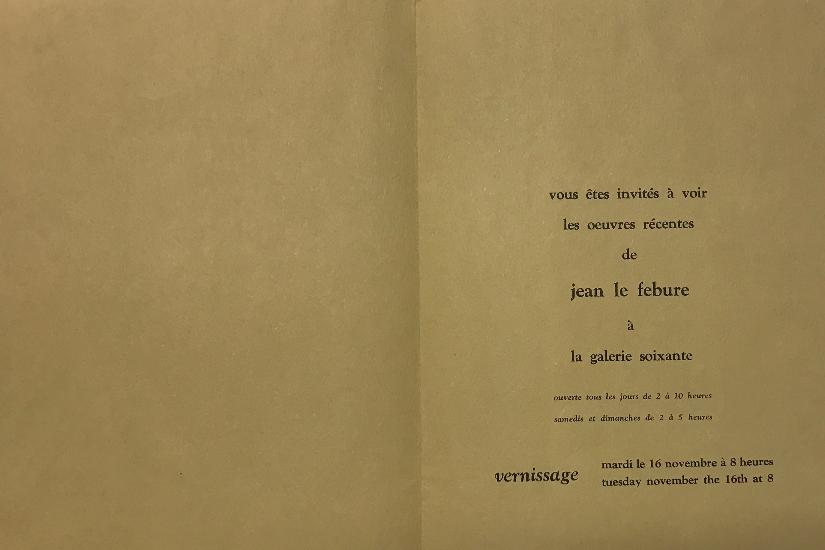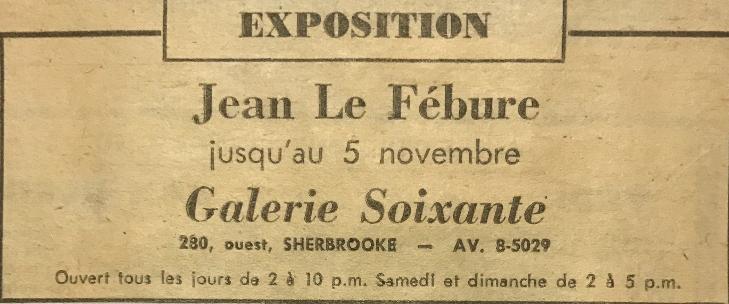 VIE DES ARTS,

Numéro 44

, Automne, 1966
, p. 49–93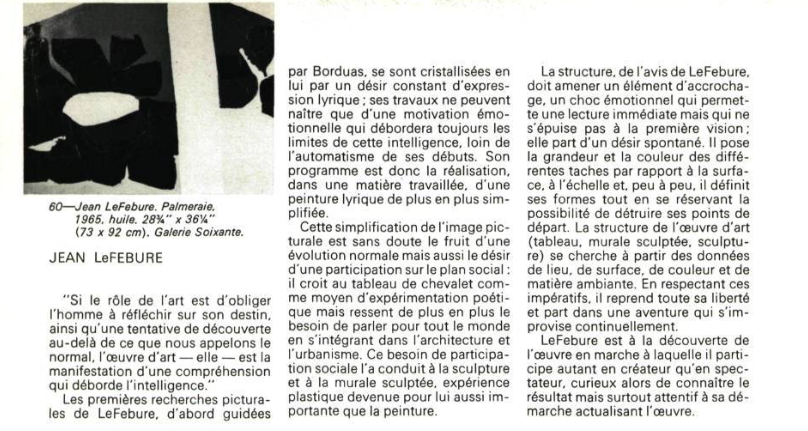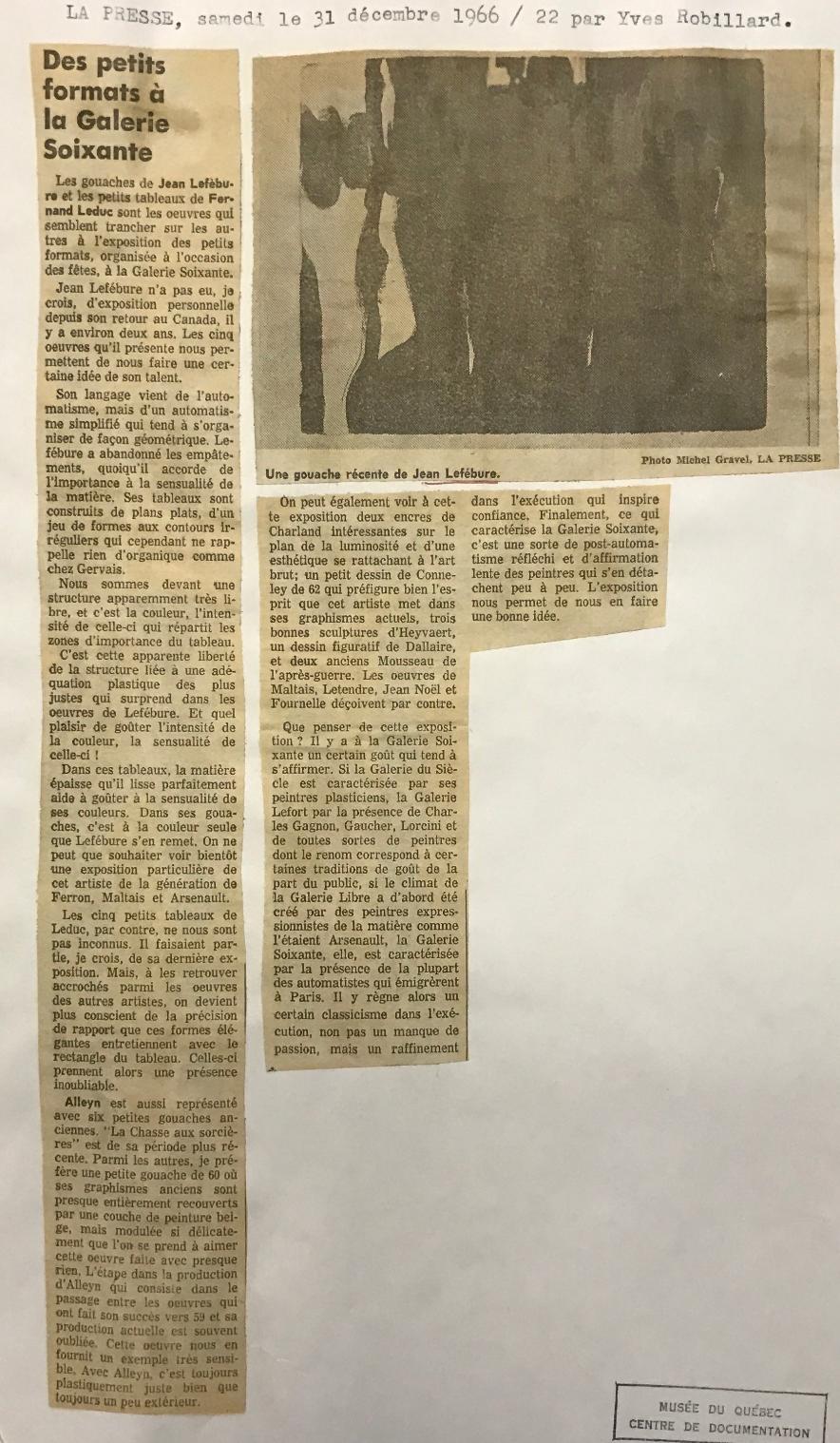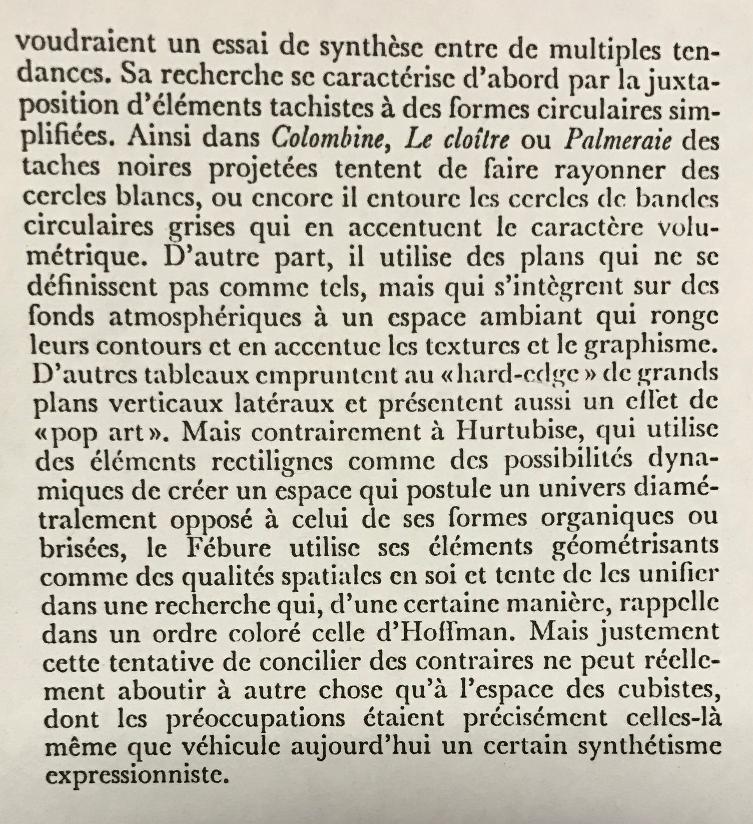 Architecture-Bâtiment-Construction no 254, Montreal. Juin 1967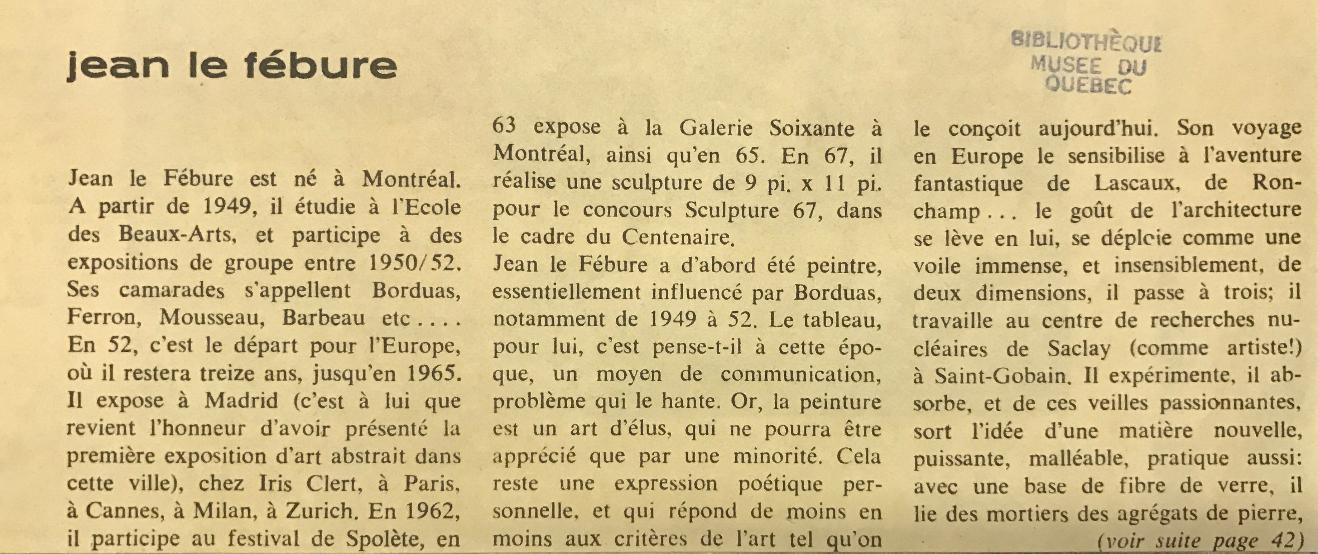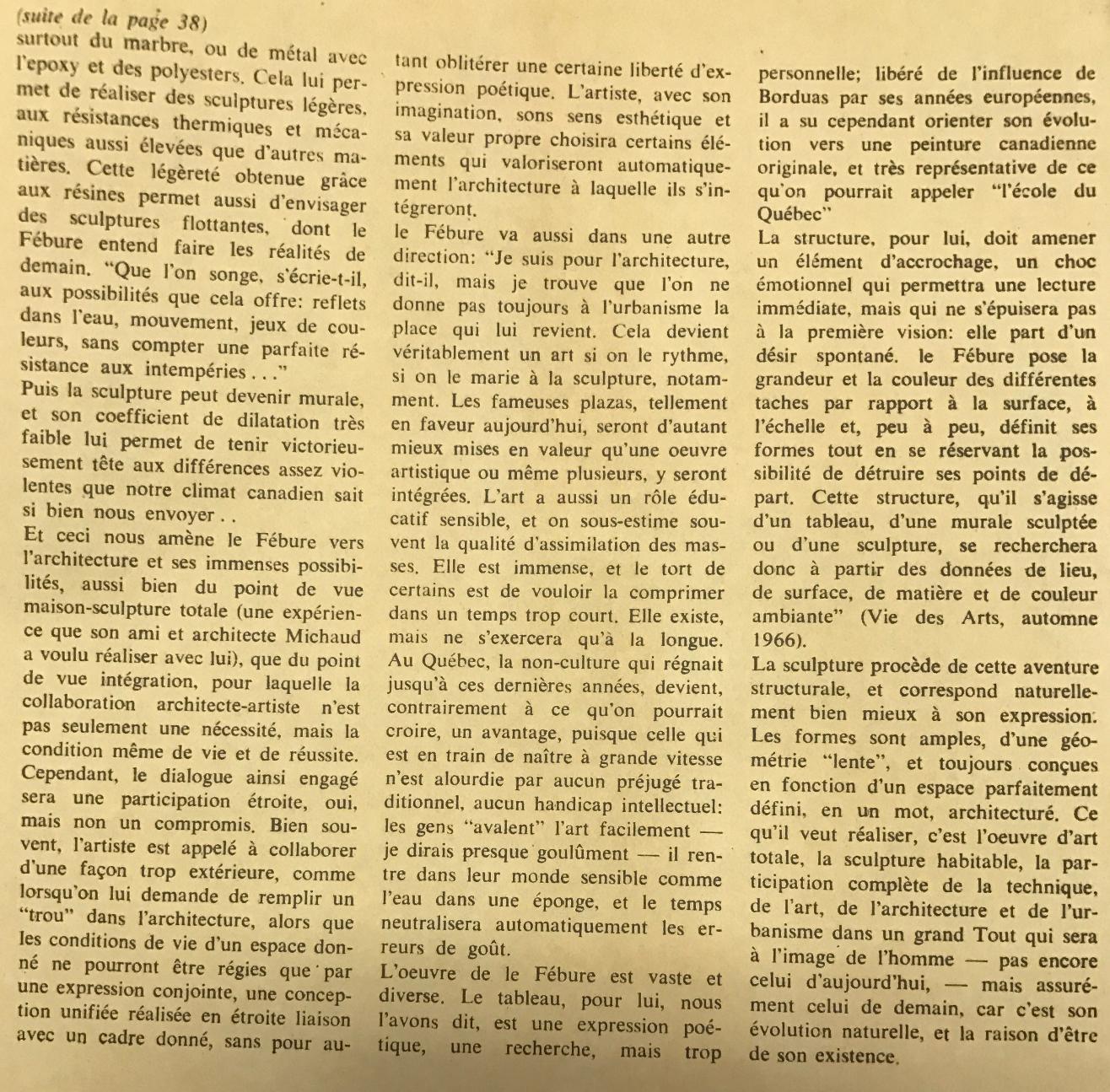 Conception au Musée d'Art contemporain de Montréal de l'oeuvre Signe solaire, 1967
Signe solaire, 1967 - Situé sur l'ile Ste-Helene, Montreal.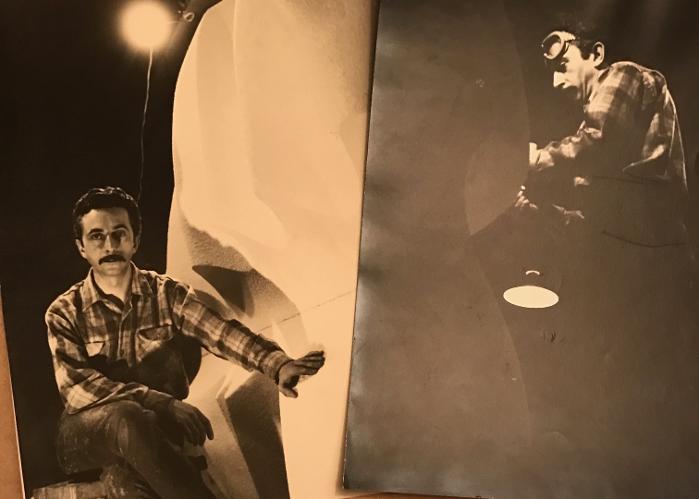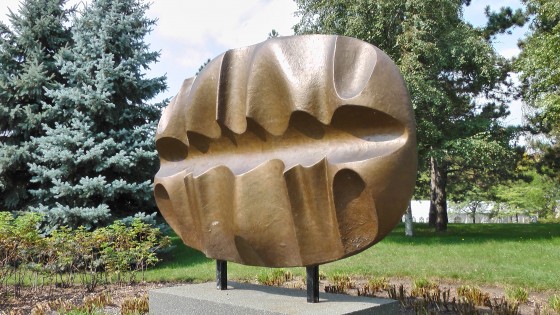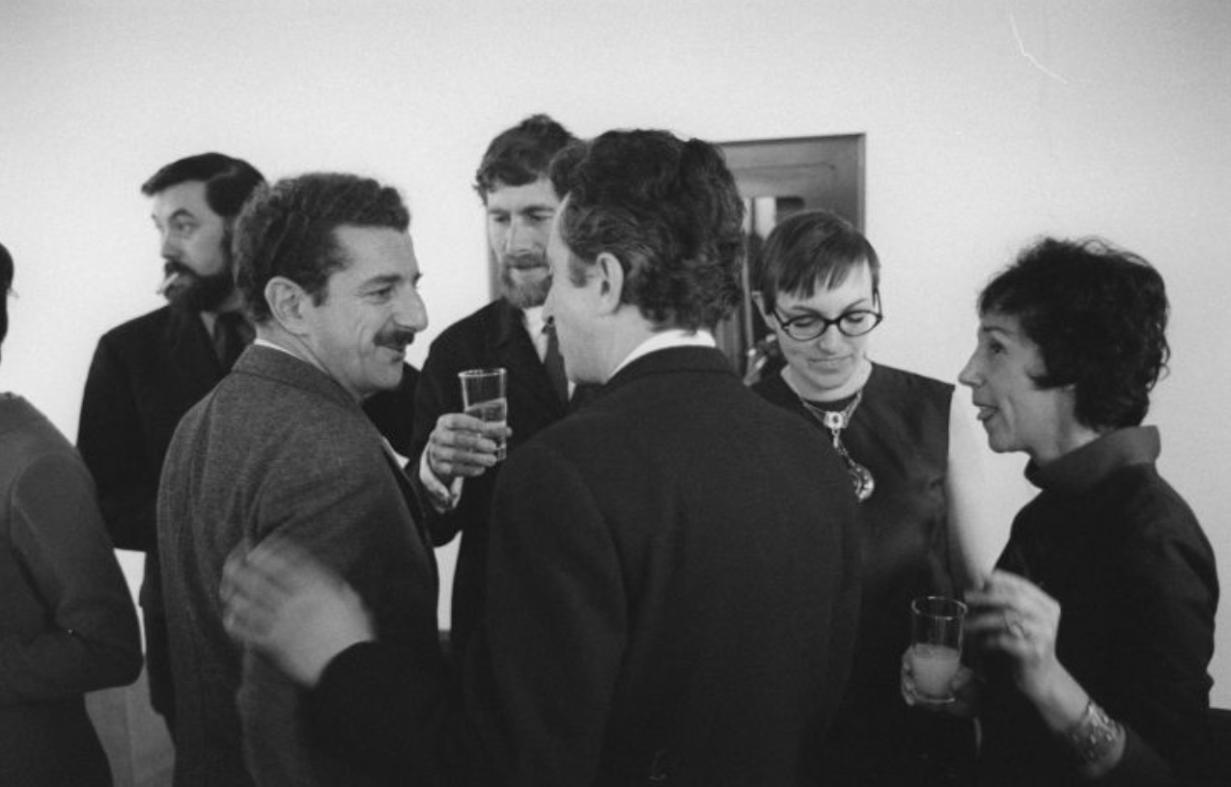 Jean Lefebure, Marcelle Ferron
Vernissage de l'exposition Jean Dallaire, Musée des Beaux Arts de Quebec
1968