HORATIO WALKER (1858-1938)
Titre Le retour des champs / The return of the field
1891
Aquarelle et gouache
Format: 24 x 20 in
Prov. Collection of J.R. Cox, Esq.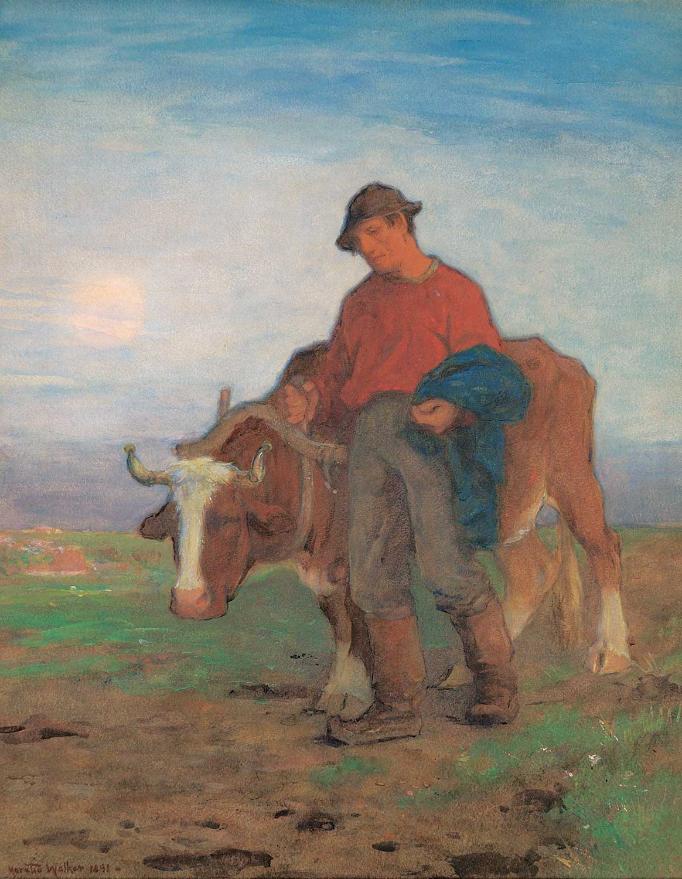 L'Ile d'Orléans
Pierre-Georges ROY
1928
Reproduit page 32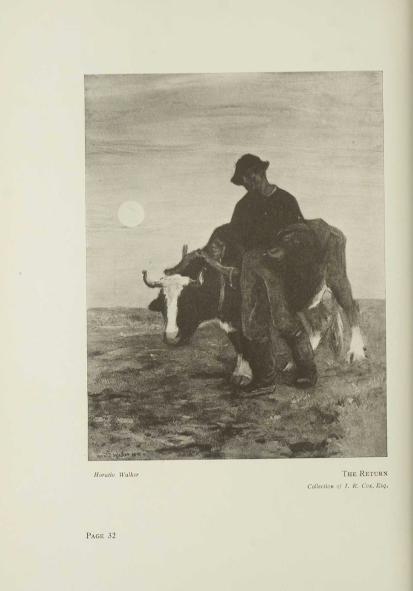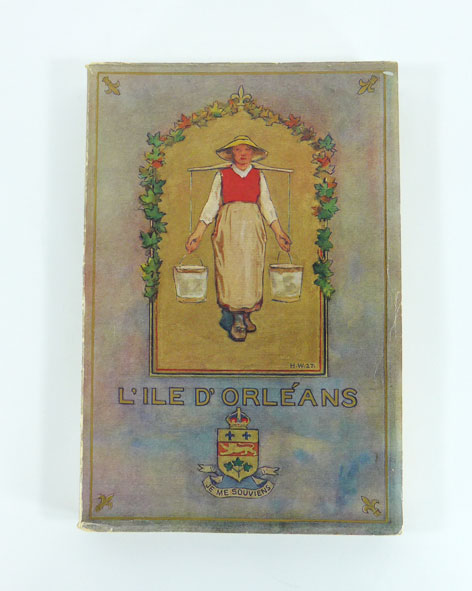 Nous partageons avec vous ce film de Albert Tessier (1895-1976), présentant de rares et émouvantes images animés, muettes, des peintres Horatio Walker, Clarence Gagnon, Ozias Leduc et Rodolphe Duguay se rencontrant.
We are sharing with you the very rare and moving animated, silent-movie of the painters Horatio Walker, Clarence Gagnon, Ozias Leduc and Rodolphe Duguay getting together.
Horatio Walker à son atelier, vers 1937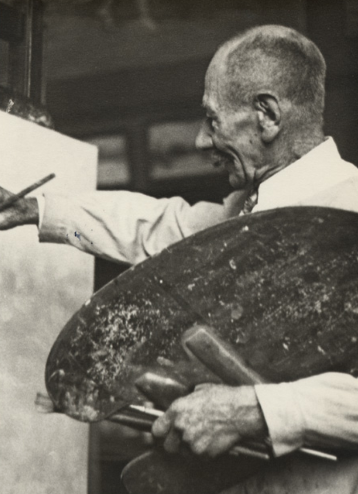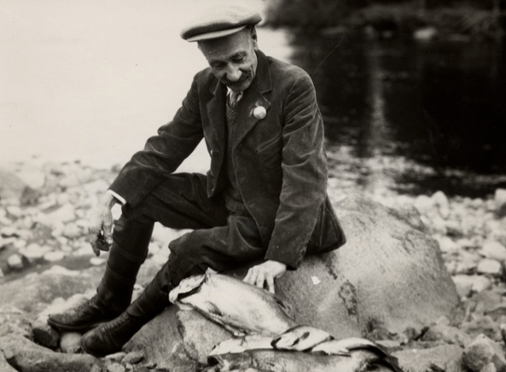 HORATIO WALKER (1858-1938)
Horatio Walker doit sa réputation de maître de la peinture canadienne à ses scènes pastorales idéalisées représentant la vie des habitants de la campagne québécoise. Ses paysages figurent parmi les tableaux canadiens les plus célèbres.
Né à Listowel, en Ontario, Walker a l'idée de dessiner des scènes de campagne montrant les habitants du Québec après un voyage à l'Anse-au-Foulon avec son père à l'âge 12 ans. Dessinateur de talent dès l'âge de 15 ans, il trouve un emploi chez Notman-Fraser, une société photographique de Toronto. Pendant les trois ans où il travaille dans cette société à coloriser les photos, il apprend à peindre des portraits miniatures auprès de John Fraser et des paysages auprès de Lucius O'Brien. Pourtant, c'est son voyage en Europe en 1882 qui va bouleverser sa vie, car il y découvre les aquarelles flamandes et le style du peintre français Jean François Millet, de l'école de Barbizon.
La plupart des œuvres de Walker sont exposées à New York, ce qui contribue à la renommée internationale de l'artiste. En 1907, Walker est le peintre d'origine canadienne le plus célèbre. Il remporte quatre médailles d'or lors d'expositions majeures, dont l'Exposition universelle de 1893 à Chicago. Il est un membre fondateur du Canadian Art Club, dont il a été élu président en 1915. Le message du « retour à la terre » de Walker, qui apparaît clairement dans des œuvres comme Automne (1918), a été largement embrassé par le Québec d'avant.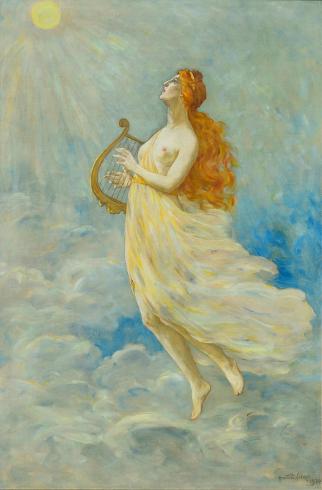 Horatio Walker, Huile sur toile, marouflé sur panneau."La femme a la lyre"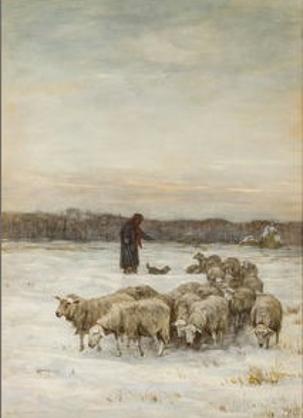 Horatio Walker, aquarelle sur papier marouflé sur toile."Le berger"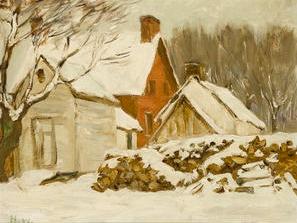 Horatio Walker, Huile sur toile, "Ile d'Orleans"
Horatio Walker gained a reputation as one of Canada's senior painters for his idealized pastoral scenes portraying habitant life in the Quebec countryside. His landscapes rank among the best-known Canadian paintings.
Born in Listowel, Ontario, Walker was first inspired to draw country scenes of the Quebecois Habitants after a visit to Wolfe's Cove with his father at the age of 12. At 15, already a superb draughtsman, he found employment with the Toronto photography firm Notman-Fraser. During the three years he worked there colouring photographs, Walker also learned miniature portrait painting from John Fraser and landscape painting from Lucius O'Brien. However the experience that changed his life forever was a trip to Europe in 1882, where he was exposed to Dutch watercolours and the style of French Barbizon painter Jean-François Millet.
Most of Walker's works were exhibited in New York, thus raising his international profile. By 1907, he had become the most famous Canadian-born painter. He won four gold medals at major exhibitions, including the World's Columbian Exposition in Chicago. A founding member of the Canadian Art Club, he was elected president in 1915. Walker's "back to the land" message, evident in works like Autumn (1918), was strongly embraced by pre-reformation Quebec.
Horatio WALKER -Art Association Montreal 1900
Horatio WALKER- Montross Gallery 1915
Horatio WALKER American Masters of paintings 1918
Horatio WALKER- Montross Gallery 1922
Horatio WALKER The Art interchange
Le soleil, samedi 10 janvier 1925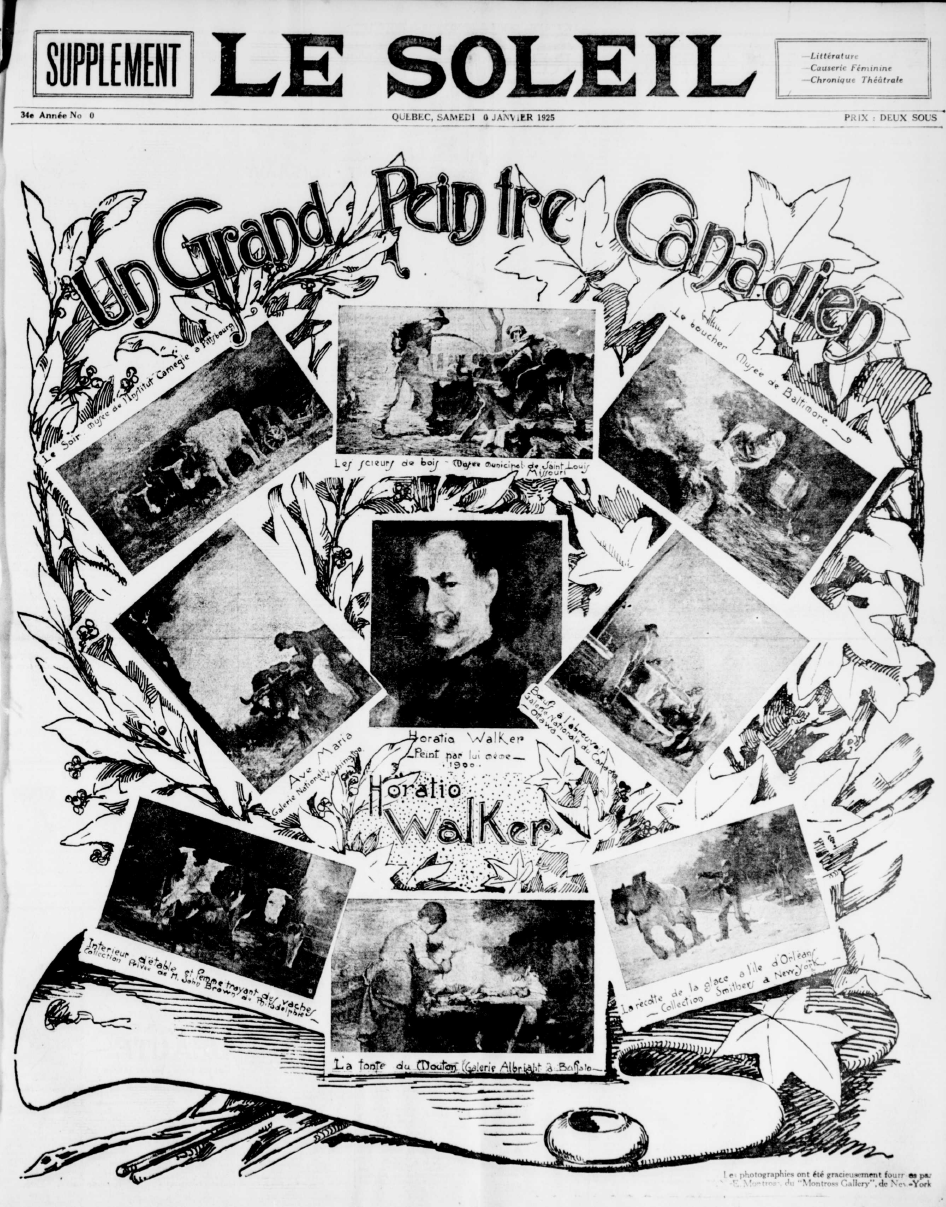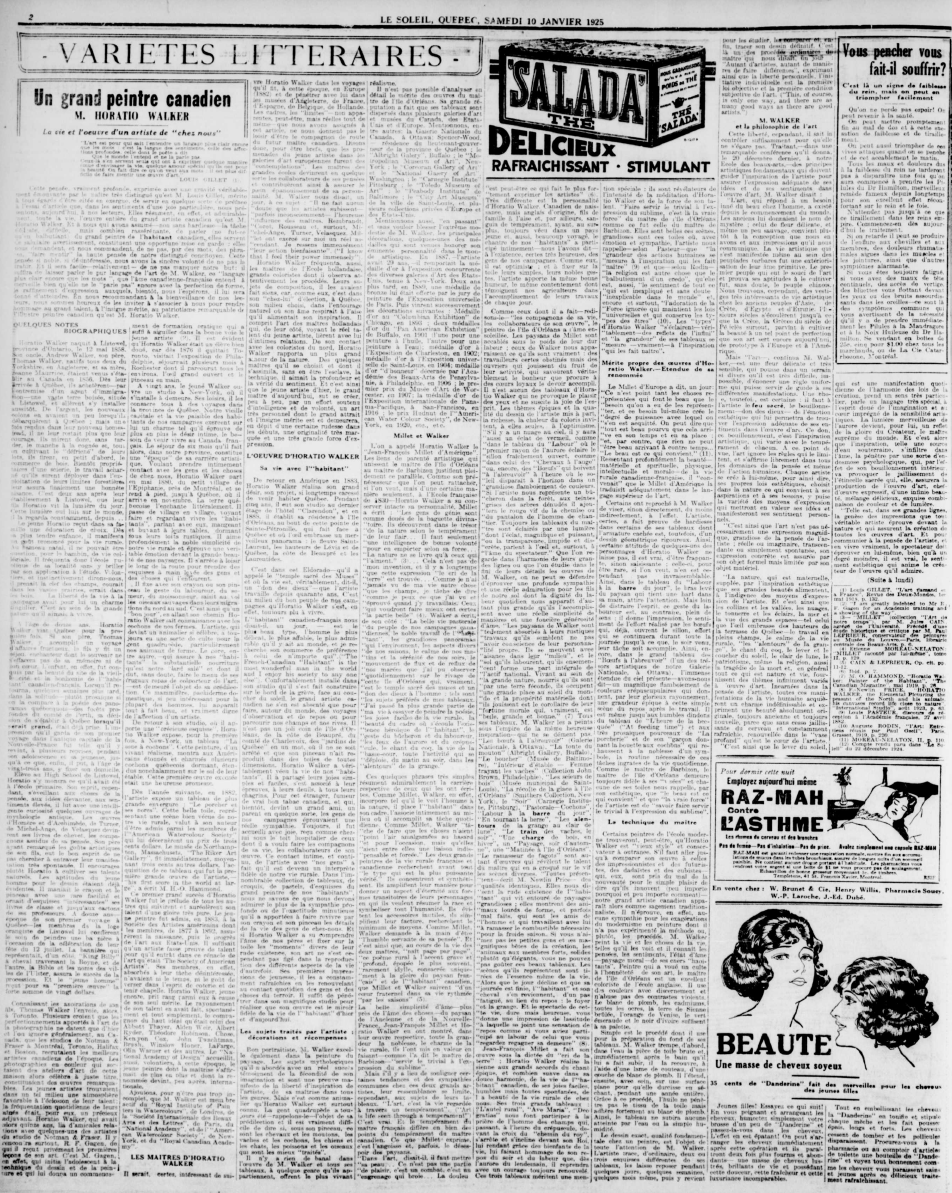 La Revue moderne, avril 1929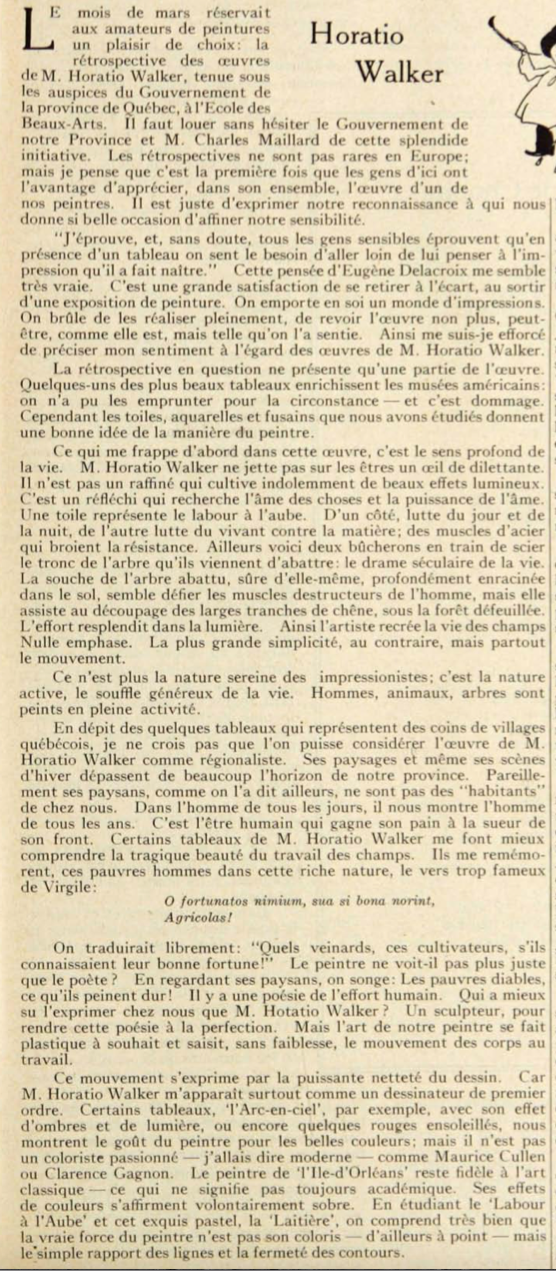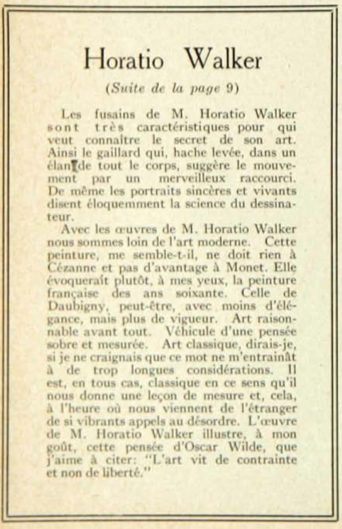 La Gazette du Nord, vendredi 9 mai 1930

HORATIO WALKER- Le devoir, samedi 29 octobre 1938